Become an Accredited CBT Coach Practitioner
And learn how to ease the mental pain that afflicts so many sufferers.
Do you know people who are stressed, anxious or depressed?
Would you like to help sufferers and make their life better?
Would you like to earn a living as a practitioner?
If so, you've come to the right place. The Blackford Centre's accredited Diploma course will give you a life affirming and prosperous role as a CBT Coach Practitioner.
What exactly is CBT?
CBT is a today's leading psychotherapeutic treatment. It helps people identify and manage disturbing or upsetting thought patterns.
These beliefs lead to behaviours that hold people back or distress them. They can be quite disabling.
Every year millions of people around the world receive treatment using CBT.
Some clients may be suicidal and need deep therapy to help get them back on track, while others feel slightly low and simply need some guidance.
QLS Level 4 Award
At the end of this course successful learners receive a Certificate of Achievement and a Learner Unit Summary.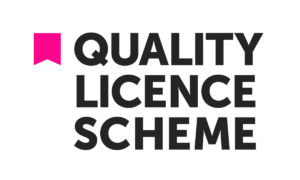 What is CBT effective for?
No therapy resolves a wider range of problems than CBT. Here are the ones that have been approved by the UK's National Institute of Clinical Excellence:
Body dysmorphic disorder (BDD)
Post-traumatic stress disorder (PTSD)
Depression
Generalised anxiety disorder (GAD)
OCD
Panic disorder
Other conditions where CBT may help, but NICE guidance is lacking, include:
Anger issues
Bipolar
Bulimia
Chronic fatigue syndrome (CFS/ME)
Chronic pain
Drug and alcohol addiction
Habits such as facial tics
Irritable bowel syndrome.
Learning disability
Persistent (chronic) pain.
Schizophrenia
Sexual or relationship problems
Sleep disturbance problems
This means the opportunities for you are unusually wide ranging. And that in turn gives you more clients, and more ways to earn a living.
Why people turn to CBT Coaching
Rather than use pharmaceutical drugs, most of us would prefer to get control of our ailment. We want to get to the heart of the problem, and avoid the side effects that drugs can have
And that's why people are seeking CBT treatment.
You've probably read that CBT is effective in managing so many conditions, ranging from addiction to poor sleep. And unlike some therapies, it's evidence based. That's because with CBT you give your client practical tools to overcome their problems, and coach them how to overcome the difficulties that hold them back.
"There is a strong evidence base for the effectiveness of CBT. It can be used in a wide number of mental health and physical conditions. The National Institute for Health and Care Excellence (NICE) has recommended its use as a treatment option for a number of diagnoses." Source: NHS
How do clients benefit? The effects of CBT are life changing
"One in four people in the world will be affected by mental or neurological disorders at some point in their lives. Around 450 million people currently suffer from such conditions, placing mental disorders among the leading causes of ill-health and disability worldwide." Source: World Health Organisation.
Mental health problems can affect anyone, and without warning. So, as a CBT practitioner you will work with people from all across many backgrounds. CBT can work on anyone. Some people will get more out of CBT sessions than others, but the premise of the psychology involved in the practice remains the same.
CBT clients experience a more positive existence and use the tools you have taught them to improve their mental health.
Why you should offer CBT coaching
Have you ever found yourself helping someone who is going through a difficult time?
With all the pressures of modern-day society it is no surprise that each year more and more people are suffering with debilitating mental health issues.
Could you see yourself as a CBT practitioner?
You may already be a therapist who wants to expand your knowledge base and offer more services such as CBT. Broadening your skill set will increase the range of clients, which will benefit your practice.
No matter why you aim to become a CBT practitioner, it will lead you to a great and long-lasting career.
Every day is different, because each client has their own specific problems. The challenge for you is to understand the client's needs and through coaching resolve them.
Why learn with the Blackford Centre?
At the Blackford Centre we believe that high quality learning doesn't always have to be done in the classroom. That is why we offer our CBT practitioner course online and is available to access at anytime from anywhere in the world. You can do the course at your own leisure, which means you have the option of going as fast or as slow as you want through all the material.

Expect expert advice from your own personal tutor who is a practising CBT practitioner themselves. They will have a wealth of knowledge that spans across the world of CBT and beyond.
We don't believe in employing people that teach subjects they have no real world experience in or who have never ran a business before. Having this philosophy means our courses tend to be more practical than other courses out there on the market.
Our tutors practise what they preach!
In our CBT Practitioner Diploma not only will you learn the full details of becoming a CBT practitioner, but you will learn how to set up a successful practice of your own.
CBT is a subject that has many areas to cover. Learning each of these areas in depth will allow you to become the best CBT practitioner you can be. Please see below the key modules that are included within our CBT Practitioner Diploma.
Will I be able to practise?
Yes. There are no restrictions on practising as a CBT Coach. Plus, this course will give you the added confidence and knowledge you need to set up your coaching practice. In addition, you'll get a Diploma, the right to use our post-nominal letters after your name, and the logo for your website and business card.
What you'll receive
The course involves a complete learning experience. You will have your own tutor, who will work with you throughout the course.
You also get streamed videos and instructional text, supported by self-assessment exercises and tutor-marked assignments.
Then there is the CBT toolkit, a set of 24 worksheets and therapeutic exercises you can give our clients. They are editable, so you can personalise them and brand them to match your practice's identify. We explain what problem they can resolve, and how to use them.
There's also a business startup work pack, which has sample contracts and forms that get you up and running from day 1.
And you get substantial advice on how to set up your own CBT practice. This includes:
How to find clients at low cost
How to manage your money
What insurance you need, and where to get it.
The business systems and processes you'll want to use.
How to manage enquiries from prospects
How to run your CBT coaching sessions.
Business forms
So even if you know nothing about running your own practice, you'll find the course contains all the information you need.
Most people take 4-6 months to complete the course, but you can take as long as you need to finish it. We understand that sometimes life gets in the way.
At the end of the course you'll get your accredited certificate and your Blackford Centre Diploma. And you also get 90 days business mentoring, completely free of charge.
Any questions?
If you have any questions, call us on 0800 781 17 15 (or +44 1373 470 270 if you're outside the UK), or any of the phone numbers at the bottom of the page, and we'll answer any queries you have.
We look forward to helping you succeed.
With best wishes


Kit Sadgrove
Course Director