Become a Certified Celebrant.
And make people's special day truly memorable.
Would you like to preside over the most important moment in people's lives?
Do you like ceremony and ritual?
Would you like the flexibility of working part time?
Are you a 'people' person?
Becoming a celebrant lets you be part of life's most memorable moments, from performing a custom-made wedding to officiating at funeral ceremonies.
Tradition, formality and religion is no longer so important, and many now seek a morepersonalised way to tie the knot or say goodbye to a loved one. That's where a celebrant comes in.
Why might you become a celebrant?
What could be better than playing a key role in joining two people in matrimony?
You'll witness at first hand their love for one another, and you'll invite their friends and family to join with you in celebrating their union.
You'll preside over funeral services, helping loved ones to say a farewell in a dignified way that brings some consolation and peace.
There will be tears of joy and tears of sadness, a time to rejoice and a time to reflect.
As a celebrant you'll meet people from all walks of life, from nervous grooms and overly-excited mothers-of-the bride to grief-stricken family members trying to come to terms with their loss and seeking words of comfort.
The role requires the utmost sensitivity. You'll see people at their most vulnerable and glimpse them at their strongest. You'll understand the true meaning of human spirit and what it is to embrace joy and endure grief. And as you go about your daily business you'll encounter a wide array of people and become part of their world. It's a privilege and a responsibility.
This is a job for anyone who wants to be part of the amazing 'circle of life', a role that allows you to touch the lives of the people you conduct ceremonies for. It's a career that gives you the chance to provide cherished memories that will remain forever. Who wouldn't want to be part of that?
QLS Level 4 Award
At the end of this course successful learners receive a Certificate of Achievement and a Learner Unit Summary.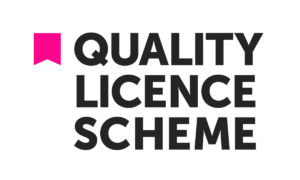 What skills do I need to become a celebrant?
Celebrancy is the perfect career for anyone who loves interacting with others and has good communication skills. Being a celebrant also requires you to show compassion and benevolence.
Personality beats academic achievement; so you don't need a degree or a bunch of formal qualifications. You will, however, need to complete a course (we can help you with that and we will explore this further later on).
Student Testimonial
"I am really pleased with the way each module steers you through to the next one.
I found all the course materials easy to follow and the post course tools are going to be essential in my path forward. "
Julie, Diploma in Celebrancy student
It attracts a certain kind of person
This role suits those who are looking for flexible working arrangements. It is particularly suitable for:
Retirees – Seeking something more fulfilling than jigsaws and pottering around the garden? If you're not quite ready to hang up your work shoes yet this twilight career path could be right up your street.
Stay at Home Mums – You already have a lot to juggle, the house, the kids, the dog, and a multitude of other chores, so finding a job on top can be an exhausting prospect. How can you find something that fits around your hectic schedule? The good news is a career as a celebrant allows you to plan your work commitments around your home and family – you can have it all!
Part-Timers or Freelancers – Not keen on working full-time? Prefer to find a part-time role that provides a better work-life balance and allows for equal measures of work, rest and play? Becoming a celebrant can give you a fulfilling role and a decent wage but it doesn't take over your life.
Those who are looking for a change – Just want to do something different? Want a challenge? Why not swap your office job for something with a bit more oomph? Wouldn't you rather lead a ceremony celebrating a marriage or commemorating someone's life than go to yet another meeting and have to listen to Neil from Accounts drone on about his cost analysis (again). All you need is the gumption to do something different, step away from your comfort zone and enter into a career that offers more than endless phone calls with nonchalant suppliers and a hurried lunch whilst hunched over your desk.
Fitting being a celebrant around the rest of your life
The joy of becoming a celebrant is that you choose when you work and when you don't. You can take on as much or as little as suits you.
Fancy a long holiday in March? Then don't book in any jobs for this month. Want to earn lots of extra money for Christmas? Book yourself plenty of ceremonies to suit.
There's always work available, weddings, naming ceremonies, deaths – life goes on and celebrants are needed to mark those significant occasions.
Who hires celebrants?
All manner of people hire celebrants, from those who prefer a ceremony without a religious backdrop to those who want to customise the event to suit their personal tastes.
Let's take a wedding as an example. Once upon a time the 'big day' would consist of a beautiful bride complete with huge white meringue dress and overly heavy veil. She would be walked down the petal-strewn aisle to the familiar strains of the wedding march by her teary dad and met by her suited and booted hubby-to-be. There would be hymns, prayers, promises to love, honour and (wait for it… obey, gulp), and then the obligatory "I do's," a kiss, lots of paper confetti and a knees-up at a nearby hotel.
Fast forward to today and weddings have moved on. There's still a place for the traditional service held in a place of worship. But whereas in the past if a church wasn't for you there was only the local registry office, nowadays there are many other options.
From getting married in hotels and museums, to saying "I do" in football stadiums and zoos, indoors, outdoors, in the air or underwater – someone, somewhere has probably tied the knot in that way!
Freedom of choice is now all important. People don't just want to choose where they marry but how they celebrate their union too. There is no such thing as a 'typical' wedding. We can also extend this to funerals. No longer is everyone expected to wear black, sing hymns and weep for their loss. Nowadays it's fine to celebrate a life as well as mourn a passing. We can reminisce about a life well led, and commemorate a relative's time on earth through readings, poetry, and songs that hold real meaning to those saying goodbye.
Other ceremonies are no different. We don't have to live our life by a book of rules when it comes to celebrating a wedding, saying goodbye to a loved, marking a special milestone, or celebrating an achievement.
Many people like the idea that a celebrant has no preconceived ideas as the design of their ceremony. They prefer to offer their own insights into what would make a ceremony special rather than follow a typical format or predetermined outline.
What type of ceremonies would I conduct?
While weddings and funerals remain the most popular celebrant-conducted occasions, there are other ceremonies that can be carried out. You can also preside over:
Naming Ceremonies . A celebration of family and life, this is the perfect way to welcome a child into the world. The ceremony involves the "official" recognition of your child's name and allows family members and friends to pledge their love and support to your child.
Divorce Healing. This is all about identifying and acknowledging the damage and upset that a divorce can cause. It encourages those who have dealt with divorce to join with their nearest and dearest in a bid to begin the healing process and move forward with their life. The past will never be erased but it can be accepted for what it is – to love is to learn.
Retirement. Leaving a longstanding career can be a bit of a wrench for some. A workplace provides stability, a daily routine and ready-made social opportunities. It's no wonder retirement can be daunting! It's better to see it as a time to celebrate all the hard-work, effort and achievements of a long and illustrious career.
Home Blessings. Your home is your sanctuary, a place to work, rest and play, a place where you come together with those you care about and make amazing memories. Blessing your home can bring about a sense of peace and contentment.
Coming of Age. Growing up gives us much to celebrate, as a child grows into a teen and breaches the gates of adulthood. From sweet sixteens to graduations or the marking of a Bah Mitzvah, a celebrant can carry out coming of age ceremonies that draw attention to achievement and celebrate the arrival of maturity.
Handfasting.A celtic tradition, handfasting involves a couple coming together in what may be described as a form of wedding. The couple have their joined hands draped in ribbon and often exchange vows (and sometimes rings) to symbolise their union.

Handfasting is an increasingly popular ceremony.

Renewal of Vows. There's something very romantic about re-affirming your love for one another and the renewal of vows allows a couple to articulate their feelings and reiterate their intention to be together in front of friends and family.
Pet Celebrations. Losing a pet can be heart-rending. As part of the family, a cat or dog (or other much loved creature) can provide comfort, fun and unconditional love. A pet celebration conducted by a celebrant allows you to commemorate the life of your cherished companion and acknowledge his importance in your life.
So how do you become a celebrant?
Can't wait to embark on a fantastic and rewarding new career that offers variety, flexibility and real meaning? Great! But first you'll have to acquire the necessary knowledge. You'll need to learn:
– How to find prospects
– How to make yourself stand out from other celebrants
– What to charge
– How to design the perfect wedding or funeral
For this you'll need to enrol on and complete a training course.
There are several courses available, so you'll want one that's accessible, affordable and respected. Some courses require you to travel a long distance, and pay for hotels. Life is busy enough without trying to squeeze in a course that requires you to attend a stuffy classroom and pay the earth for the privilege!
Surely it would be better to find a course that is reasonably priced and allows you to study from the comfort of your own home? Well, you're in luck! Grab your slippers and plug in your laptop, The Blackford Centre provides everything you need to become a successful celebrant. Simply join our distance learning course and make a start on your brand-new career.
A bit about us
For over two decades we've been helping people get a new career. We're fully endorsed, and have support teams in the UK. USA, South Africa and the Philippines.
So, what exactly can we offer you?
Flexibility – You set the parameters, not us. You start your course whenever you want and as long as you need to complete it.
Freedom – Study when it suits you and from the comfort of your own home (or a nice coffee shop, or a green and lush park – the choice is yours)!
A broad range of study materials – You get a useful array of study materials including videos, instructional text, and self-assessment exercises. You will also receive supporting forms and checklists and readymade speeches to help you on your way.
Timesaving tools – We provide readymade editable forms, documents, checklists and guides that will save you time (you have enough to do already)!
Useful feedback – Distance learning can sometimes feel a little remote, but not this course! You have a dedicated tutor who will provide practical feedback, constructive comments and valuable support.
Value for money – No one wants to pay over the odds, value for money is essential and we make sure that we offer a comprehensive service for our fee. We look after our students and believe in offering a fair and competitive price.
Practical guidance – Completing a course and gaining a diploma is a great achievement, but what exactly are you going to do with it? We not only help you to succeed in your studies but we also provide practical support to help you to find clients and earn a living.
What you'll learn
The Blackford Centre's Diploma in Celebrancy is a comprehensive course that covers everything you need to know to become a fully qualified celebrant. Here's what you'll discover:
Wedding Ceremonies
Learn about wedding ceremonies, including opposite and same sex unions.
Find out about the role of celebrants.
Gain an understanding as to how ceremonies are conducted.
Explore the meaning of marriage.
Gain an insight into the importance of vows.
Learn about different traditions and customs.
The role of the celebrant and duties at a wedding.
Funerals
Determine how to best support those who have been bereaved.
Get to grips with the formalities surrounding a funeral ceremony.
Learn how to properly conduct a service.
Find out the most effective way to deal with funeral directors.
Other Ceremonies
Discover other ceremonies that celebrants are able to conduct.
Understand how they are carried out.
Other ceremonies include naming, adoption and divorce healing.
Learn the significance of ceremonies to those involved
Client Contact
Gain an insight into the needs of your client.
Comprehend the need for sensitivity and understanding.
Learn how to engage with your audience and offer the 'personal touch'.
Explore the best techniques for interviewing clients.
Pick up tips on how to gain the relevant information you need.
Legalities
Learn that rules vary from country to country. For example in the UK a wedding must be performed by a registrar to be deemed legal, so the ceremony you perform will come after the
registry office one. But in Scotland a wedding conducted by a celebrant is considered lawful.
Find out about couples who do not want to get "legally" wed but are more interested in a relaxed approach. They still want to celebrate their togetherness but don't feel the need to have their union recognised by law. For these couples a ceremony conducted by a celebrant is
perfect.
Planning and Organisation
Find out about wedding speeches, readings and eulogies.
Discover the importance of speaking clearly.
Learn the best way to ensure you offer a clear and confident delivery.
Get to grips with the public-address system.
Acquire a sound understanding of body language.
Realise the importance of considered appearance and style.
After the Ceremony
Learn how to effectively and confidently follow-up.
Find out how to make sure you have presented your client with a lasting memory of the ceremony.
Understand how to handle receiving and requesting payment in a sensitive situation.
Marketing.
Discover the best way to find clients.
Understand the most effective way to handle an initial enquiry.
Learn how to manage your first meeting with a client.
Setting Up Your Own Business.
Learn about contracts and how they work.
Understand the practicalities of running a business, including health & safety and the need for insurance.
Discover how to operate your business as a practising celebrant.
Get to grips with the finances.
Guides, forms and cheat sheets
As part of your course materials, you'll get a bundle of editable forms that you can fully personalise. This is an invaluable treasure trove of 'done-for-you' guides and information sheets that will save your hours of time and help you look competent. They include the following:
Advice sheets for your client on using a celebrant
Client details form
Ready-made speeches for several different ceremonies, including wedding, funeral and handfasting
Creative ideas for ceremonies
Celebrant's code of practice, to demonstrate you are ethical
Schedule of fees
Contract, to ensure you get paid
Resources file, where to get essential items, official contacts, associations you can join
Sample text for a leaflet
Post ceremony feedback form (gets you testimonials)
These forms are only available to our learners. They will help you seem truly professional and competent, especially for your first clients when you are less sure of yourself.
Are Celebrants in High Demand?
In short – Yes! There's has been an upturn in the demand for non-traditional ceremonies. People haven't turned their back on religion, but it is no longer synonymous with weddings and funerals.
There's a trend towards getting personal, as people strive to put their own mark on ceremonies in order to represent themselves or symbolise their loved ones. Readings and music can be chosen to represent the occasion and reflect the personalities of those involved. The scripted approach isn't for everyone and some prefer the chance to write their own vows or words of meaning that have depth and significance.
There's a keenness to turn away from formality and make ceremonies more about the people involved. Celebrants have an understanding of this and can work with people to create a fitting and tailored ceremony that captures the emotion and sentiment of the day.
Student Testimonial
"Thank you very much for your advice and kind words as well as your support throughout the course. It's been a real pleasure to have you as my tutor and I appreciate your guidance for this learning journey!
I bought my domain name last weekend as well as securing the Instagram name. I will of course keep in touch and let you know how it all goes."
What Are You Waiting For? It's Time to Register.
Here at the Blackford Centre we pride ourselves in offering interesting and well-thought out courses that are designed to challenge, inspire and provide the skills you need to move forward in your career.
Opting to become a celebrant is a fantastic choice, and we know you have the motivation and aptitude to complete the course. Remember you can start whenever you like and there's no rush, but we are behind you all the way and will help you to succeed.
How Do I Register?
You can register for the course by clicking here, or alternatively contacting the Blackford centre via email or by posting the form and payment directly to us.
You will get your course materials within two days and can get started whenever it suits you. We suggest you take your time and read through the material provided, when you are feeling confident have a go at the first assignment.
Once you have completed it you can send it to your tutor who will mark it and then provide you with valuable feedback which will allow you to identify where improvements can be made.
Here's to becoming a celebrant and embarking on a fantastic new career at the very centre of the lives of others.
If you have any questions, call us on 0800 781 17 15 (or +44 1373 470 270 if you're outside the UK), or any of the phone numbers at the bottom of the page, and we'll answer any queries you have.
We look forward to helping you succeed.
With best wishes


Kit Sadgrove
Course Director