Frequently Asked Questions
You can start the course at any time: today, tomorrow or next month. Whenever is best for you.
You study at home, or wherever you want. The course does not involve you being in a classroom or going to a test centre.
A celebrant is a professionally trained individual who is licensed to perform live event ceremonies such as weddings, funerals and christenings. These are also known as humanist ceremonies.Other events can be carried out by a celebrant such as renewal of vows, namings, divorce, coming of age, retirement, home blessings, celebrations of life and animal celebrations/remembrance.
Yes as the number of people wanting something unique that is different to traditional ceremonies is growing. This is a flexible career that you can undertake as full-time or part-time and choose the number of hours you wish to work.
This depends on the kind of ceremony you are offering, the client needs and the time required. You will set your own fees. The average fees in the UK, depending on the ceremony, are between £200 – £1,500 per ceremony.
If you are personable, creative and enjoy dealing with people this is the career for you. People from all walks of life become celebrants, either in addtion to their current job or as a career change. Celebrants must be confident talking to people, good organisers and able to speak clearly and coherently.
As locations for weddings, and indeed events have become more flexible over the past years people are moving away from the traditional. A celebrant tailors the event to the client which makes it special and memorable.
Clients can write their own wedding vows, funeral words, naming speeches, chose a special location (at sea, on the beach, in the middle of a forest) and even bring their pets if they wish. Celebrant ceremonies are flexble which is why people choose them.
This will be limited and will mainly cover your office and administation costs. Most celebrants work from home.
It is essential to have a smart wardrobe for meetings and the actual ceremonies. Your clothing should complement the ceremony and be subtle so you don´t upstage the guests. Funeral attire is likely to be dark colours unless the client specifies otherwise.
You may like to invest in a quality PA (Public Address) system as you may be asked to speak at a large event and it is essential everyone can hear you.
In many countries (including the UK) a humanist ceremony is not legally binding. However, in Scotland humanist ceremonies have been legal since 2005. Likewise, in Australia a registered celebrant can legally marry a couple, but there are certain criteria.
Some couples will get legally married at a Registry Office and hold their humanist wedding after with a celebrant. Some prefer just the celebrancy wedding and don't want the legalities.
Laws change constantly so we advise our celebrants to keep up to date with current requirements by contacting their local government office.
It is entirely up to you how far you wish to travel. You will include mileage charges in your fee.You can choose to work locally or spread your wings a bit further, depending on your location and how much work you choose to take on.
Part of your role as a celebrant will be to market yourself so people think of you when they want a celebrant. The main marketing tools are a website, social media, advertising and networking. This needn´t be expensive and we'll give you lots of marketing advice in the course.
Is the course endorsed?
Yes. Our course has been endorsed under the Quality Licence Scheme.
This means we have undergone an external quality check to ensure that our organisation and the courses we offer meet certain quality criteria.
Endorsement involves a robust and rigorous quality audit by external inspectors to ensure quality is consistently met. A regular review of courses is carried out as part of the endorsement process.
To this end, the learning outcomes of the course have been benchmarked at QLS Level 4 Award against level descriptors published by Ofqual, to indicate the depth of study and level of difficulty involved in successful completion by the learner.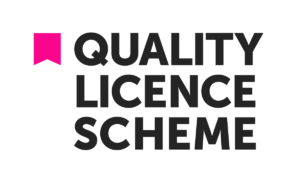 When you successfully complete this course you will receive a Certificate of Achievement and a Learner Unit Summary (which lists the details of all the units you have completed as part of your course).
Read more about course accreditation here