Diploma in Counselling Course FAQs
Frequently Asked Questions
How long does it usually take to complete the course?
The counselling course can take five months to complete. But you can do it as quickly or slowly as you want. That's the great advantage of distance learning.
Do I need to finish the course within a certain time?
You can take as long as you want. Unlike other organisations, we don't set any time limits.
What are the course costs?
Does the cost for the course include everything I need? Or are there any extra fees?
There are no other costs or fees.
Can I spread the cost of the courses over a period of time?
Yes. You can make five monthly payments. It costs 20% more. You can find the cost of paying by installments by clicking here.
How could I get my money back if I don't like the counselling course?
Just return the course in good condition within 60 days of receiving it, and we'll send you a full refund.
Can I start the course at any time?
Yes. You can start today. Or tomorrow. Or next week. Whenever you want.
Is the course all from home, or do I have to go to a school and sit tests?
It's all done from home.
I live in the USA, UK, Ireland, Australia, Canada etc. Is the course suitable for me?
Yes. We have students in 28 countries. And we have two editions of the course. One is for North America and those who want to pay in US dollars. The other edition is for the UK and Europe, and people who want to pay in sterling.
But we welcome payment in any currency.
How can I contact my tutor or the Blackford Centre?
There have two types of people you can contact – your tutor and a course advisor. The tutor marks your work, and helps you with any problems. You can fax, email or post assignments to your tutor, whenever you want.
We don't give out the tutor's phone number, because a few people would spend all day talking to their tutors, who would never get any work done.
But sometimes students get stuck, or have an urgent question. If so, you can phone a course advisor at the Blackford Centre at any time during work hours. If you leave a message out of work hours we'll call you back the next day. You can contact course advisors as often as you want, and about anything to do with counselling.
Is the course endorsed?
Yes. Our course has been endorsed under the Quality Licence Scheme.
This means we have undergone an external quality check to ensure that our organisation and the courses we offer meet certain quality criteria.
Endorsement involves a robust and rigorous quality audit by external inspectors to ensure quality is consistently met. A regular review of courses is carried out as part of the endorsement process.
To this end, the learning outcomes of the course have been benchmarked at QLS Level 4 Award against level descriptors published by Ofqual, to indicate the depth of study and level of difficulty involved in successful completion by the learner.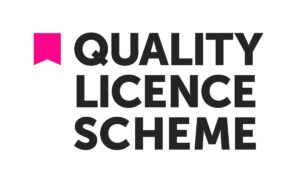 When you successfully complete this course you will receive a Certificate of Achievement and a Learner Unit Summary (which lists the details of all the units you have completed as part of your course).
Read more about course accreditation here
Will the course give me credits towards a degree or some other study?
No. But it will help you set up and run your own business. And we encourage all students to continue their studies after completing the course.
What sort of jobs can I do with this qualification? Is it just a case of building your own practice? Or could you get salaried pay?
The course is primarily for people who wish to set up a counselling practice.
There aren't many openings for salaried work in counselling. Some vacancies exist in the health service or schools but generally they want higher qualifications (PhDs etc) than we offer.
However, some of our graduates have got experience in their own private practice and have then got work attached to doctor's surgeries.
Will the qualification get me a job in a hospital or school?
To get a job in a public organisation, you'll need more qualifications than we can offer. Our course is designed to help you work with private clients.
Remember, the easiest way to earn a living is to work for yourself. So in the course we focus on how you can work from home as a counselor.
Are there any restrictions on me setting up as a therapist?
Most countries don't stop you setting up your own practice.
However, for the USA, where there are more stringent regulations, we have written a separate page at www.inst.org/counselling-courses/usa/faqs_USA.htm for information about counselling in the USA.
Can I practise in Canada?
At time of writing, it is legal to practise in Canada. Canada is going down the route of 'reserved titles' such as 'Registered Counselling Therapist', a move we support because it allows for a two tier profession, with the opportunity for people to start at the lower level and then get the higher qualifications.
See this site for more information:
www.ccpcpr.ca/
I've heard that the only way to become a recognised counsellor is to get practical hands-on experience rather than doing a course online.
Counselling in the UK and many other countries is an unregulated profession. You may think that is a good or a bad thing. But it means there are no rules and regulations that require you to have a specific qualification to practise. So there is no official recognition for counsellors.
However, practical hands-on experience is an important part of our training.
We advise students on how to gain practical experience, typically through informal channels and voluntary work. It's a requirement of the course.
It's a great way to gain experience and build confidence, while applying the skills you learn on the course.
In fact, compared with classroom courses, where you only get to practise with students like yourself, our mechanisms are more practical and more closely related to the real world.
Unlike many classroom based courses, ours teaches you all the skills you need to become a counsellor, such as setting up a practice.
Your assignments are based on your practical work, and on case studies so you can apply your knowledge to a real life setting.
These assignments are marked by our tutors, who are all practising professionals. They have a thorough understanding of the subject matter, and understand where learners need guidance.
Your tutor will provide feedback for your work, will help you improve, and is on hand to answer your questions for the duration of your studies.
We understand that our course cannot suit everyone, and some students prefer a face to face course.
However our course is a great way to start out as a self employed counsellor, especially for those who may not have the time and opportunity to study in a classroom on a fixed schedule.
It's worth noting that we have a 60-day money back guarantee for the course, which gives our students a good amount of time to look through the course materials, contact their tutor, and maybe even try an assignment to make sure our course is suited to them.
We want our students to be happy in their studies, and if within this time frame you feel the course or distance learning isn't suited to you, you can return the materials for a full refund.
What organisations can I join as a member?
On completing the course you can join our counsellors' register free of charge, here: www.inst.org/membership/counselling. It could bring you valuable clients.
You may also decide to join one of the many professional bodies such as:
– Counselling' a registered charity, which lets you use use the initials 'CCC' after your name.
– The Counselling Society
– ISPC: the International Society of Professional Counsellors
You may join the International Guild of Professional Practitioners as an International, Associate or possibly Full Member, depending on experience.
Each of these organisations has different grades of membership and changing requirements for membership. So you are best to check them out.
Some of these bodies only accredit classroom courses. If you want their accreditation (and remembr that none are essential and none are official) you could get startted by doing a distance leanring course, and going on to do a classrooom course later.
Many students believe that clients iwll expect to see accreditation on a business card. However, 95% of clients have no awareness of accreditaton bodies.
Remember, too, that you will have recognition from us, and also from our accreditation body, ABC, which is recognited and regulated by OFQUAL.
USA
Our US counselling graduates can join the American Counseling Association as a Regular Member. They can join as a Full Member (Category B) of the Canadian Counselling Association.
To summarise: you don't have to join any of these organisations to practise. In most countries, including the UK, counselling is not a regulated profession. But they can help you network and keep up to date.
Is the government bringing in legislation to regulate counsellors so that only accredited counsellors will be allowed to call themselves a counsellor?
The legislation refers primarily to doctors – it follows on from the enquiries into Neale, Shipman, Ayling etc.
Secondly, it refers mainly to employment within the NHS, which is not somewhere our students tend to work.
Thirdly, there is almost no possibility that the government would legislate out of business those thousands of counsellors who provide the basis for most counselling sessions in the UK.
It is however possible that some title will be bestowed on those who conform to specific criteria, for example 'Accredited' or 'Licensed', which will be used to distinguish between the government and non government approved professionals.
This being the case, I have no doubt that you will be continuing to practise effectively over the coming decades.
And even if the government were, unlikely though it is, to regulate, there would inevitably be some grandparenting scheme that would allow you accreditation.
We will reimburse the student's fees in full if after gaining the Diploma, legislation prevents them from running a private practice.
What can I call myself in South Africa?
You may not call yourself a 'Registered Counsellor' in South Africa. Currently you may call yourself a 'Counsellor', though this may change in future years if the word becomes a controlled title. You may call yourself a Therapist or a Therapy Counsellor, and you can legally practise using those titles.
When can I do the course?
Can I start the course at any time?
Yes.
Where can I study the course?
Is the course all from home, or do I have to go to a test centre?
It's all from home.
Will I be able to get insurance?
Yes, we provide you with the names of organisations that provide insurance to students who complete our course.
How are you different from other organisations?
When you start comparing us with other organisations you might notice that:
Some organisations limit the amount of time you have to complete the course. Many organisations only allow you 12 months to complete the course. And after those 12 months are up they may require you to pay a fee to continue. With our course you can take as long as you need, without paying additional fees.

Some organisations will only give you 7 days to return your course if it's not right for you.

 If our course is not what you expected and you want a full refund we allow you 60 days to return it and claim your money back.

Some organisations will charge you an administration fee to return the course.

 We refund all of your fees.


How can I be sure that you're legitimate, and that you won't disappear with my money?

Here are some answers we hope will reassure you.
We've been in operation since 1995; so we're very established.
We publish our physical address at the bottom of each page – and you are welcome to visit us.
We're audited by ABC twice a year (you can phone them to verify they do that).
You can read the Reviews of our students on the web site.
You can ask us for the contact details of former students who will talk to you about their experiences.
We publish an Ethical statement here.
We're registered at Companies House: registration number 352 4886
Our VAT number is 729 1528 23

Our Licence number granted by the Office of Fair Trading under the Consumer Credit Act 1974 is 606843.

Our bank is NatWest, 7 High Street, Wells, Somerset (we have money in the bank and no loans or overdraft).
We're registered with the UK government's Register of Learning Providers (www.ukrlp.co.uk); Number 10009490.
And finally, we love what we do; and we wouldn't do anything to jeopardise it.